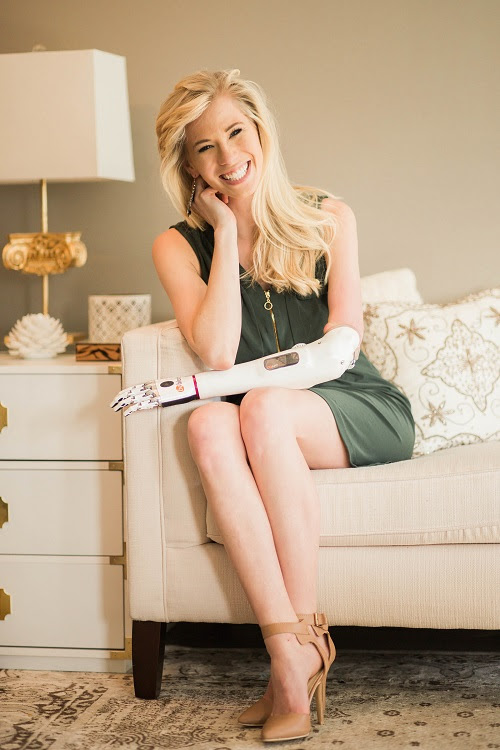 Photo Courtesy AJ Abelman Photography
ATLANTIC CITY, NJ (October 4, 2017) – Born without her left forearm, Miss Iowa 2013 Nicole Kelly inspired the nation when she graced the Miss America stage during "The 2014 Miss America Competition."
Following Miss America, Kelly transitioned into public speaking and attended journalism school to work towards a master's degree in broadcasting. Today, she shares videos highlighting her life on social media, most recently, learning to use a sleek prosthetic arm.
Nicole has been using an advanced prosthetic arm that uses the Coapt Complete Control system. Using technology developed at the Shirley Ryan AbilityLab, the arm uses sensors that decode the signals from her muscles. This allows her to control the arm intuitively, by thinking about what she wants to do. Nicole continues to share her journey, both triumphs and setbacks, as she embraces this new technology.
"Miss America was my 'inciting incident' to finding my pride in my difference," said Kelly. "I am thankful to the Miss America Organization for providing me with a springboard to people, disability organizations, and technology companies, like Coapt, which have changed my life for the better."
The Miss America Organization is proud to support young women, like Nicole, who seek to inspire the nation by sharing their knowledge, passion, and experiences.
Source: www.Today.Com
---
About The Miss America Organization
The Miss America Organization, a 501(c) 4 non-profit corporation, awards millions of dollars in annual college scholarship assistance making it the largest scholarship program for women in the United States. MAO is comprised of 51 organizations, including all 50 states and the District of Columbia. MAO contestants contribute over 500,000 hours of community service annually and have raised over $16 million for Children's Miracle Network Hospitals since 2007.Don't forget to get social!

Follow us on Twitter: @MissAmerica  & @ MissAmericaOrg
Instagram: @MissAmerica
www.Facebook.com/MissAmerica
Miss Iowa 2013 Nicole Kelly Shares Experience With New Bionic Arm