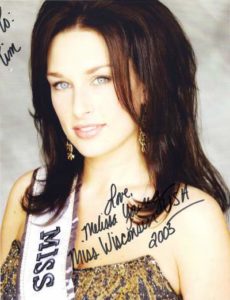 I did a lot of soul searching as to whose autograph card I wanted to start this feature with and when I thought of Melissa, the contest was over.
Melissa's is the only photo on the TKPN Bulletin Board that never, ever gets swapped out. She has long been an inspiration to me…well before her valiant fight with her illness that has been waged for many years now.
We interviewed Melissa before there even was a PageantCast…while I still had the radio show, but I new I wanted to start with this lovely lady.
If you would like your autograph card featured here on a future Thursday with the PageantCast Vault, autograph your card and either scan it and send it to [email protected] or contact me at the same email and I'll send you the physical address to mail it to me.