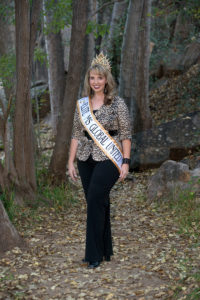 Jessica Smith from Chino Valley, Arizona wins International Title of the 2016/2017 Elite Mrs. Global United Queen. She is 32 Years old and a wife to Darin Smith and mother to 2 beautiful girls- Ariel and Chloe. She is a 3 time multiple cancer survivor. She has her own organization called SCORE-Supporting Cancer Out-Reach & Education. She volunteers for multiple organizations including being on the committee for the Relay for Life.
27 Contestants ages 13 to 83 gathered in Minneapolis, MN this July 20-23, 2016  for a week of fun, friendship, and a chance to become one of the Five New International Global United Pageant™ Queens.
Pageant week was filled with great events and opportunities for the delegates to get some great treats and give back to the communities around them, including trips to the Mall of America for shopping and mini golf, Pajama Parties and blanket tie night with baggie and card assembly, the Gold Ribbon Banquet and more.
The week's highlight, undoubtedly, was on Friday afternoon when the contestants gathered at the Rhonald McDonald House  to host a party for the patients undergoing treatment for many life threatening illnesses.  Over 70 children and their siblings were treated to face painting, cupcake decorating, temporary tattoos, Tied blankets or pillows, gift bags, games and princess crowns or hero capes. With a few tears, but a lot of joy, the contestants were feeling very grateful to be a part of this event to brighten the day of the patients there.
Competition began Saturday at the Ramada Airport Hotel and Resort with Interviews and competitions in the morning and that evening finale began with the final pageant and crowning at the Hopkins High School.
Global United Pageant ™ Winners
*Teen Miss Global United 2016/2017
*Ms Global United 2016/2017
Charlotte Burbidge, Australia
*Mrs Global United 2016/2017
*Elite Mrs Global United 2016/2017
Jessica Smith, Arizona USA
*Classic Ms Global United 2016/2017
*Global United Ambassadors 2016/2017
Alexanrda Perez, Venezuela
Melony Butler, Minnesota USA
---
ABOUT GLOBAL UNITED PAGEANT™
Global United Pageant™ is founded in the idea that there is a need for programs for women to be celebrated less for their good looks, but instead for those who have the true beauty within themselves.
The Global United Pageant is committed to seeking contestants and title holders who exemplify the beauty that comes from serving others in the community and pairs with organizations from all over the world to give to those in need.
Though many of the pageant's donations and partnering organizations change form year to year, one remains constant: Isaac's Journey. In honor of the director's friend and in memory of her son, who passed away due to childhood cancer, the Global United Pageant™ permanently partner with Isaac's Journey to help raise funds for childhood cancer research.
This is why our crowns hold the dimensional ribbon: to represent childhood cancer awareness.
Additionally, each contestant, as a part of their application process, will also submit a list of organizations with which they wish to partner. If chosen as one of the international titleholders, one of their named charities in their application will receive at least 50.00 in honor of the winning titleholder. In this sense, every contestant has a say in how the program will run each year, lending a very personal aspect to the pageant for everyone involved.