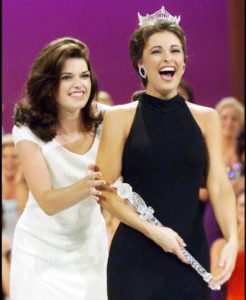 Atlantic City, NJ (August 22, 2017) – Dr. Nicole Johnson, a longtime diabetes advocate and leader who brought national attention to type 1 diabetes when she shared her personal story and ultimately won the 1999 Miss America Competition, has been hired as National Director of Mission, a newly created position at JDRF, the leading global organization funding T1D research.
Nicole has a doctorate in public health and has gained a reputation for her work on diabetes research focused on behavioral health, quality of life and family dynamics for those in the T1D community, all skills she will put to use in her new role at JDRF. She is very familiar with the organization, having served on the JDRF International Board of Directors and having volunteered for more than 24 years. She has also been a member of the Florida Governor's Diabetes Advisory Council, the National Institutes of Health's Council of Public Representatives and the national board for the American Diabetes Association.
Nicole is the founder of the Diabetes Empowerment Foundation (as well as its subsidiary, Students With Diabetes), Diabetes Partners and Diabetes Moms, and she led statewide initiatives in Florida funded by the Centers for Disease Control and Prevention (CDC) related to pre-diabetes and infant mortality.
"Nicole has done so much in the past few decades to improve the quality of life for people living with T1D and their families. In this new role, she will drive mission-related activities that strengthen relationships throughout the T1D community and within JDRF," said Derek Rapp, JDRF President and CEO. "Our mission is focused on improving outcomes for people with T1D by supporting research to cure, prevent and treat diabetes. While these successes are being accomplished, we at JDRF also want to reduce the daily burden of this disease. Nicole will be an enormous asset to our programs focused on the well‒being of the T1D community."
Nicole has been a successful journalist, too. She won a Telly Award for her work on the CNBC diabetes talk show dLife and has been a columnist for numerous diabetes magazines, as well as the author of eight books related to diabetes. Her most recent book is What to Do When Your Partner Has Diabetes: A Survival Guide.
"I am honored to become part of the JDRF staff after having participated for many years in volunteer roles. This is an exciting opportunity to help JDRF expand its capacity in supporting T1D families to handle the issues they face every day," said Dr. Johnson. "I'm eager to offer new insight and resources on the behavioral aspects of T1D, as we work together to make a difference in the lives of millions of people affected by type 1 diabetes."
Continue reading JDRF Taps Former Miss America and Renowned Diabetes Advocate Dr. Nicole Johnson as National Director of Mission →