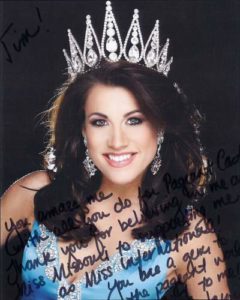 Jayna Altman, Miss International 2008, was still Miss Missouri International when I interviewed her face-to-face in Chicago when I still did the show in audio format only. As some of you know, Jayna is deaf so a phone interview was never really in the cards, though if anyone could have–it would have Jayna! She was such a delight to speak to we actually had her sit for an unprecedented THREE segments at the time, totally breaking my format at the time.
I've changed the format a couple dozen times since then.
Jayna has married and moved out West to LA. According to my sources, she is still awesome.
---
If you would like your autograph card featured here on a future Thursday with the PageantCast Vault, autograph your card and either scan it and send it to [email protected] or contact me at the same email and I'll send you the physical address to mail it to me.