The Miss America Foundation Ranked #1 of 10 Biggest Scholarship Providers in the World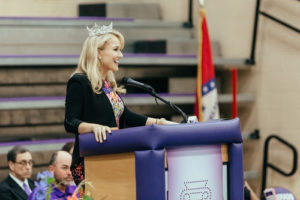 Atlantic City, NJ (April 27, 2017) – The Miss America Foundation is proud to announce its recent ranking by TheBestColleges.org as number one out of the 10 Biggest Scholarship Providers in the World!
The Miss America Foundation, a 501(c)3 non-profit organization — together with the Miss America Organization and its 52 licensed organizations — is the nation's leading advocate for women's education and the largest provider of scholarship assistance to young women in the United States, awarding millions of dollars annually in cash awards and in-kind tuition waivers. The Miss America Foundation strives to empower young women to achieve their academic and career goals by providing quality scholarship assistance.
The Miss America Foundation offers academic and community-based scholarships for undergraduate and graduate studies, as well as endowed scholarships for those young women attending medical school, working in special areas for military service awareness, and in the performing arts.
While traveling the country as an advocate for education, Savvy Shields, Miss America 2017, visited Arkansas yesterday to deliver the keynote address at El Dorado High School's Academic Signing Day. With an audience of more than 300 students, Savvy shared the importance of education and what it has meant to her to receive over $90,000 in scholarship assistance through participating in the Miss America Organization.
"The Miss America mission of scholarship and success is shared each day at the local, state, and national levels of our program thanks to our volunteers," said Josh Randle, COO of the Miss America Organization and Secretary of the Board of The Miss America Foundation. "Since 1945, scholarship has been at the forefront of the Miss America movement, and we are proud to continue the legacy of empowering young women across the country to pursue an education and fulfill their dreams."
Source: Miss America Organization
For the counterpoint:
Source: YouTube
Comments
comments
Tagged with: MAO, Miss America 2017, Savvy Shields, Scholarship